The culmination of roughly five years of work was celebrated last Wednesday (Feb. 16) at the ceremonial groundbreaking for Aggie Square. More than 200 invited guests came to the Sacramento campus of UC Davis to share in the excitement.
Gary S. May told the crowd that in 2017, after he had been appointed chancellor but before he took office, he began working with Mayor Darrell Steinberg "to create a hub of innovation, economic development and community engagement here in Sacramento. … Today I'm happy to say, we made it!"
Partnership was an overarching theme for the day, as Steinberg and numerous other elected officials came to mark the milestone. UC Davis, the city of Sacramento and project developer Wexford Science & Technology are the primary partners bringing forth Aggie Square.
"The most powerful projects are when we come together (to benefit all)," Steinberg said, noting that Aggie Square is "for and about community."
'Knowledge community'
Aggie Square will bring together university research and teaching, industry and the community to create opportunities across the region. It will be home to research programs, private industry partners, classrooms, student housing and public-facing programs that engage local communities and entrepreneurs.
Tom Osha, executive vice president at Wexford, served as emcee for the groundbreaking ceremony. He described Aggie Square as a "knowledge community" that can act as a front door to the university for those looking to engage with its research and innovation.
Doug Woodruff, senior vice president of Wexford, credited much of the project's forward momentum to the partnership with the university and the city that is based on a "willingness to do things differently than what has been done before."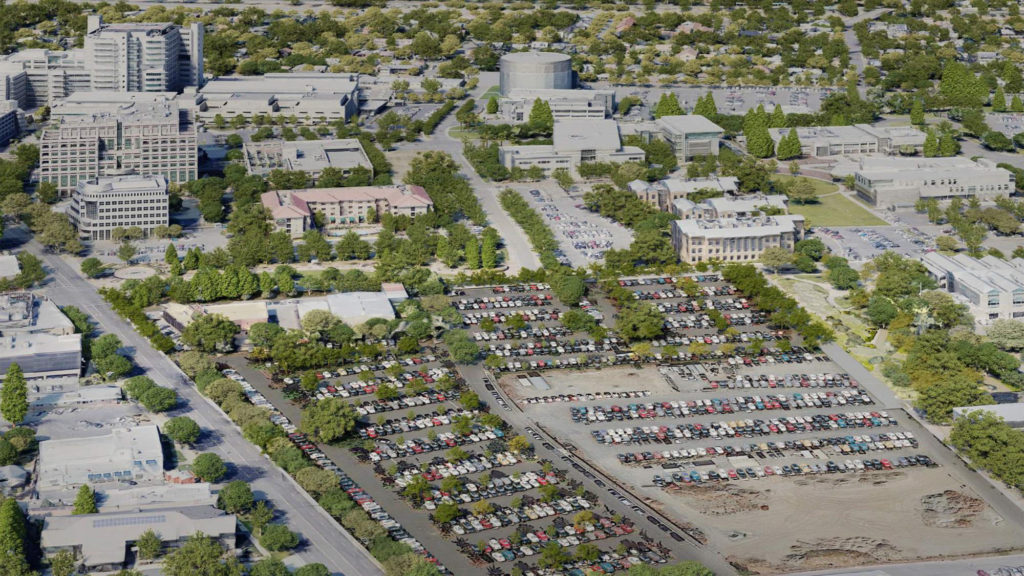 Aggie Square before (with Stockton Boulevard on the left) …
… and, as seen in rendering of Phase 1, with five buildings surrounding the square of Aggie Square.
U.S. Rep. Doris Matsui, D-Sacramento, who represents District 6, where Aggie Square will be built, said projects such as these are "what makes a city and a region grow."
Matsui added, "Supporting innovation doesn't just support jobs today, it sustains them for a generation."
"We were chosen to build this project 791 days ago," Woodruff said. "On Dec. 15, 2024, we will be open for business — 1,034 days from now." Construction on Phase 1 of the project will begin this spring. This phase includes two buildings designed for science, technology and engineering and a Lifelong Learning Building dedicated to classrooms and public programs.
Aggie Square will address the need for additional research space in Sacramento, especially "wet lab" space for both academic and industrial use. It will help attract both government and private research funding to Sacramento and UC Davis.
An economic impact report completed in 2020 estimated that Aggie Square would add nearly $5 billion a year to the economy of the Sacramento region and generate 25,000 jobs. The construction phase will deliver an additional $2.6 billion in one-off economic impact and 15,000 job-years.
Quarter at Aggie Square
UC Davis has already launched an undergraduate program for the project, Quarter at Aggie Square. Leveraging its proximity to UC Davis Health, the state capital and community organizations, this immersive program addresses topics of societal concern from multidisciplinary perspectives. The program began in fall 2020 offering "experiences" in health and educational equity and biomedical engineering. For winter quarter 2022, the class focuses on immigrants, refugees and human rights, combining campus expertise in international migration and California government with hands-on experience working with immigrant and refugee communities. Read more: Learning at the Heart of the Issues.
UC Davis Professor Maisha Winn, who taught in the first Quarter at Aggie Square experience on Transformative Justice, was on hand for the groundbreaking. She told the audience that as a "native daughter of Sacramento and Oak Park," she was highly invested in the project's success. Additionally, Winn said that when she was an undergraduate at UC Davis and wanted an internship at UC Davis Health, there "were so many hoops to jump through. Now the way is more paved," she said, offering thanks to her Quarter at Aggie Square colleagues and to those first "undergraduate students who were bold enough to trust us."
Edible education
In January 2020, Aggie Square announced that the Alice Waters Institute for Edible Education would be the first tenant. Building on Waters' Edible Schoolyard Project and UC Davis' depth of expertise in food, nutrition and agriculture, the institute will bring together experts from across disciplines such as education, health care, agriculture, policy and business to create new solutions for healthy, sustainable and equitable food systems.
Waters was in attendance, as well, and thanked UC Davis for the opportunity to be part of Aggie Square. "I'm so pleased Davis gave me the opportunity for not only edible education, but also regenerative agriculture."
Also giving brief remarks at the ceremony were: Ben Chida, chief deputy cabinet secretary for Gov. Gavin Newsom; Eloy Ortiz Oakley, member of the UC Board of Regents; Jose M. Hernandez, member of the UC Board of Regents; Joany Titherington, community member; Richard Pan, member of the state Senate, District 6; Kevin McCarty, member of the state Assembly, District 7; Phil Serna, member of the Sacramento County Board of Supervisors, District 1; Jay Schenirer, member of the Sacramento City Council, District 5; and Eric Guerra, member of the Sacramento City Council, District 6.